2009: Ray Thomas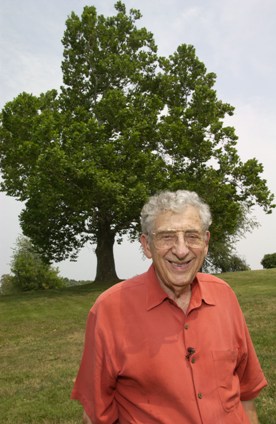 In 1985, civic leaders in the area established the Zanesville Development Corporation to generate ideas to enhance the quality of life in Zanesville. The corporation suggested three projects: formation of a community leadership program, an enhanced economic corridor along Interstate 70, and the establishment of a community foundation.
Raymond W. Thomas was one of five people invited to serve on a permanent committee to working to establish a community foundation to serve Zanesville. Ohio University-Zanesville volunteered their Director of Community Education, David Mitzel, as the first executive director for the new foundation.
In Fall 1985, Ray Thomas and David Mitzel attended an annual meeting of the Donor's Forum of Ohio (now Ohio Grantmakers Forum). One session featured a leading expert in the field of community foundations, Eugene Struckhoff, who discouraged communities with a population less than 250,000 from trying to establish a community foundation because he felt they always failed.
Although they listened closely to Struckhoff's presentation, Mitzel says that Ray told him on their travels home that "Mr. Struckhoff does not know our community."
Thomas was elected the founding president of the Zanesville Foundation, which became the Muskingum County Community Foundation in 1988. Thomas was MCCF's president for six years and was recognized as President Emeritus. Since 1995, MCCF has presented The Ray Thomas Community Service Award each year at the Donor Recognition and Awards Celebration, honoring an individual who has given significant time and energy to serving a local organization.
Thomas strongly believed in the strength of his community, and did more than his share to help it grow. Thomas was born in Madison Township in Muskingum County in 1916. He graduated from Salem-Adams High School in Adamsville and served in the United States Coast Guard during World War II. In 1949, he started the Ray Thomas Cabinet shop, where he built and installed custom kitchens and built new homes. Thomas opened a lumber shop in 1955 that he eventually expanded and renamed Ray Thomas Lumbertown. He and his wife Eva, whom he married in 1942, lived at the summit of the Stonehenge subdivision, which Thomas developed in 1975.
Thomas was well known for his art in wood, which he never sold. Thomas opted to donate his pieces to local charities, including the Alfred S. Carr Center Cake Auction and the Muskingum County Community Foundation. Some of Thomas's works are still one display at the Community Foundation's office.
In 2002, Thomas and Mitzel co-authored a book honoring Thomas' work, called Artistry, Community, and Legacy. Proceeds from the project benefited local community projects.
Thomas rang the bell at Muskingum County's celebration of the Ohio Bicentennial on July 13, 2003.
Thomas died in June 2006 at the age of 89.