CYF Wraps Up 2013 Coat Drive
Posted by Juliet Lacy on 11/28/2013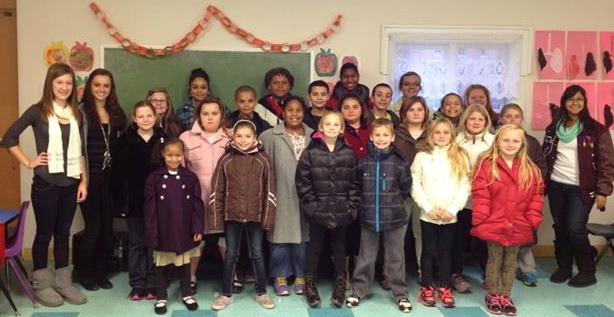 Thanks to the generosity of community members, local schools, and businesses, the Community Youth Foundation (CYF) collected more than 200 coats to help keep Muskingum County residents warm this winter.
"We are so appreciative to everyone who contributed to our recent coat drive," stated CYF President Ellie Fellers. "Hundreds of children and adults in Muskingum County will have a warmer winter thanks to everyone's generosity."
CYF Adviser Juliet Lacy noted that this year's coat drive was very successful in terms of funds raised as well. "In addition to the new and gently used coats collected, we received monetary donations which allowed CYF members to purchase additional sizes of coats needed, and also gloves and hats for the youth at Eastside," Lacy said.
On November 25th, CYF members Sarah Holdren, Alexandra Weingarth and Alisha Gupta visited Eastside Community Ministry's after-school youth program to fit the students with coats, hats and gloves. More than 30 youth at Eastside received coats this year. The additional coats collected by CYF were placed in the Eastside Clothing Bank and given to the Salvation Army, Lifewell Free Store, and the Dresden United Methodist Church's Tri-Valley Area Clothing Bank.
Items were collected in November by students at Bishop Rosecrans, John Glenn, Maysville, Philo, Tri-Valley, West Muskingum, and Zanesville high schools. Century National Bank, John McIntire Library, Tri-Valley Fitness Center and the Muskingum County Community Foundation served as drop-off locations. Collection boxes were donated by Creative Packaging.
The Community Youth Foundation is a component of the Muskingum County Community Foundation. It exists to empower youth to make a difference in their community by providing financial and human resources to projects that benefit the youth of Muskingum County. Please contact Juliet Lacy, Community Youth Foundation adviser, at (740) 453-5192 or jlacy@mccf.org if you have questions.