2013 Olaf and Olga Hanson Scholarship Recipients Announced
Posted by Chris Lacy on 11/26/2013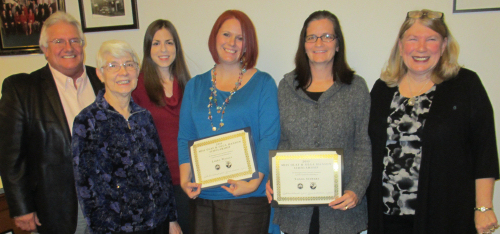 Above, from left to right: David Mitzel, Anne Goodrich, Jessica Murgatroyd,
Laura Waggle, Vonda Stewart and Dr. Vicki Whitacre.
The Miss Olaf and Miss Olga Hanson Scholarship Selection Committee is pleased to announce Vonda Stewart and Laura Waggle as the 2013 scholarship winners. The scholarship recipients were honored Monday November 25 at the Muskingum County Community Foundation.
Vonda is currently attending Muskingum University pursuing a Master's Degree. Laura is a junior at Ohio University – Zanesville as a Middle Childhood Education, Language Arts and Social Studies major.
The scholarship guidelines were created by the Executor of the Estate of Olaf Hanson, Dr. Vicki Whitacre, and other friends of Olaf Hanson who shared her love of education. To apply for the scholarship, students must have completed their sophomore year and be education majors or pursuing an advanced degree in education. They must be residents of Muskingum County who hold a minimum of a 2.5 grade point average for all coursework toward the degree they are pursuing. In addition to the application form, two letters of reference, a 250 word essay, and an unofficial (or official) grade record are required.
Miss Olaf Hanson, a graduate of The Ohio State University (B.S), received advanced degrees from the Baptist Missionary Training School in Chicago and from the Hartford Seminary (M.A.). She later served as National Director of Children's Work for the Friends United Meeting and traveled both in the United States and in England for this religious education program. She retired in 1977 from her reading teacher position at Frazeysburg Elementary School where she taught for nine years.
Those seeking further information about scholarships or wishing to make financial contributions may contact the Muskingum County Community Foundation, Scholarship Central Program, 534 Putnam Avenue from 8:30 a.m. to 5:00 p.m. weekdays at (740) 453-5192.