March College Madness at Scholarship Central Continues Monday!
Posted on 03/06/2013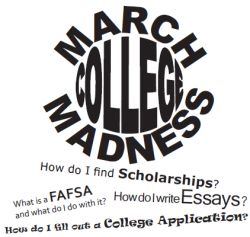 Come to Scholarship Central for Help!
Monday thru Wednesday, 4 pm - 7 pm
March 4th to March 13th
Scholarship Central Access Program will have extended hours again Monday March 11th thru Wednesday March 13th, 4 pm - 7 pm, with advisors available on a first-come, first-served basis. Advisors at Scholarship Central will help students with filling out scholarship and college applications, filing the FAFSA (Free Application for Federal Student Aid), deciphering financial aid packages, researching scholarship opportunities, ACT preparation, etc. Advisors are also able to help with essays for scholarship and college applications and to help students prepare and organize their list of activities.
For more information, call Scholarship Central at 453-5192.