Youth Foundation Wraps Up Successful Winter Coat Drive
Posted by Juliet Lacy on 11/30/2012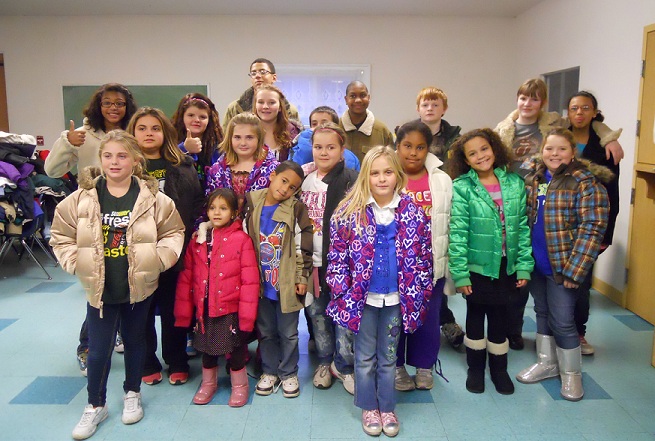 ZANESVILLE, OH, NOVEMBER 30, 2012: Thanks to the support of community members, local high schools, and area businesses, the Community Youth Foundation (CYF) has collected nearly 300 coats to keep Muskingum County residents in need warm this winter.
"I am amazed by the outpour of generosity from the community with a record-breaking number of coats," stated CYF President Madison Smith. "It feels great knowing that people in the area will be warm this winter."
On November 27th, CYF members Megan Yocum and Sarah Holdren fit students from the Eastside Community Ministry Youth Program with coats, hats, gloves, and scarves. More than 30 youth at Eastside received coats this year. The additional coats collected by CYF were placed in the Eastside clothing bank and donated to the Salvation Army.
"I think it's amazing the support that people have shown with this coat drive. The children in the Youth Center loved their new coats and will be very happy to have them when the Ohio weather turns bitter cold," said Shannon Harlan, Life Skills Coordinator for the Youth Program at Eastside. "The outpouring of support and generosity from our community shows that we are changing lives one person at a time, and that we don't have to raise thousands of dollars and go overseas to do something. Even if CYF would have collected just one coat it would still change one child's life," she added.
New and gently used outerwear items were collected in November by students at Bishop Rosecrans, John Glenn, Maysville, Philo, Tri-Valley, West Muskingum, and Zanesville high schools. Century National Bank, John McIntire Library, Tri-Valley Fitness Center and the Muskingum County Community Foundation also served as drop-off locations. Collection boxes were donated by Creative Packaging.
The Community Youth Foundation is a component of the Muskingum County Community Foundation. It exists to empower youth to make a difference in their community by providing financial and human resources to projects that benefit the youth of Muskingum County. Please contact Juliet Lacy, Community Youth Foundation adviser, at (740) 453-5192 or jlacy@mccf.org if you have questions.