"Science Guy" visits Zanesville Students
Posted on 11/21/2011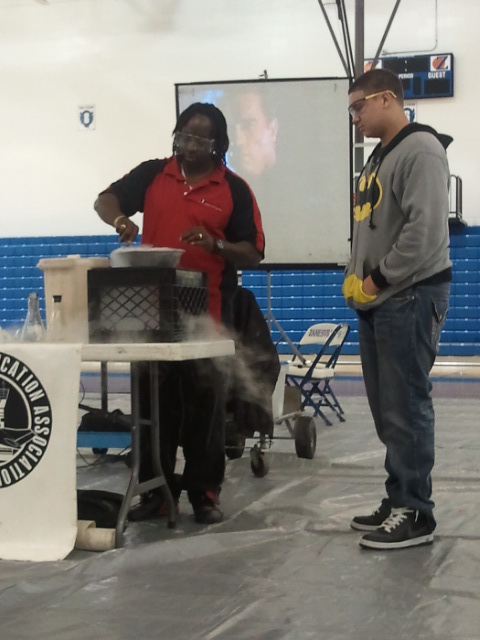 GEAR UP (Gaining Early Awareness and Readiness for Undergraduate Programs) at Zanesville Middle and High Schools has received a $2,500 grant from the Foundation for Appalachian Ohio in partner with ED MAP.
According to GEAR UP advisor Amber Dozer, the grant money was used to bring Interactive Science Programs presenter Darryl Baynes ("The Science Guy") to the high school on November 15th and to the middle school on November 16th. He gave presentations to the students in hopes of sparking interest in STEM (Science, Technology, Engineering, and Math) programs. This year's presentations focused on cryogenics.
The federal GEAR UP program provides six-year grants to states and partnerships to provide services at high-poverty middle and high schools. GEAR UP in Muskingum County served sixth through eighth graders at Grover Cleveland Middle School and all grades at Zanesville High School through August 31, 2011. The GEAR UP program is now operating under an extension from the federal government.
The Muskingum County GEAR UP Lighthouse site in Zanesville, Ohio is administered by the Muskingum County Community Foundation through the Scholarship Central Access Program. Scholarship Central Access Program, a Governor's Initiative Program, is a college access program designed to serve all students in Muskingum County.
For information contact:
Scholarship Central Access Program
534 Putnam Avenue
Zanesville, Ohio 43701
Phone: (740) 453-5192
Fax: (740) 453-5734
Or visit the websites at www.ohiocan.org/muskingum or www.mccf.org
The Foundation for Appalachian Ohio awards grants through a competitive application and review process. This grant indicates the organization is committed to programs that enrich the quality of life in Appalachian Ohio
The Foundation for Appalachian Ohio is a regional community foundation and 501 (c)3 public charity serving the 32 counties of Appalachian Ohio. The Foundation attracts contributions for programs and endowment, makes grants for charitable and civic purposes and supports regional efforts for positive change. For more information or to learn more about the Foundation's I'm a Child of Appalachia Network (ICAN!) to promote regional access and success in education, visit www.appalachianohio.org.
For more information contact: GEAR UP Advisor Amber Dozer at adozer@mccf.org or 740-453-5192.