Community Fun Day
Posted on 03/29/2011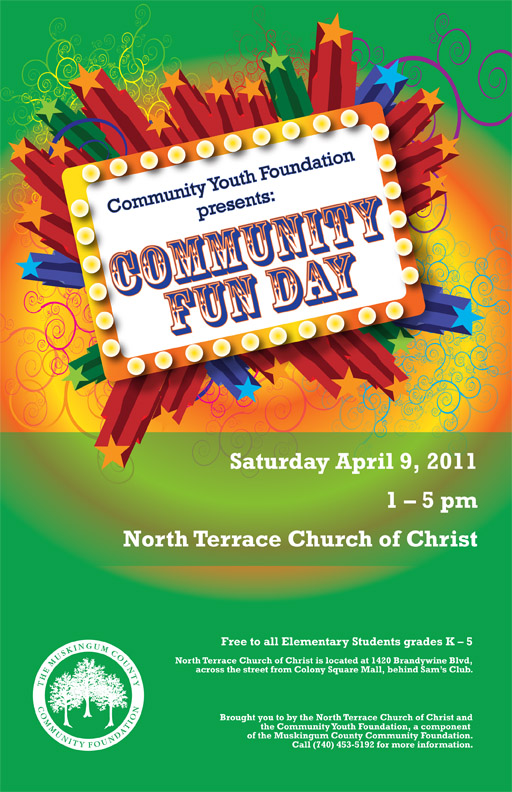 The Community Youth Foundation (CYF) is sponsoring a Community Fun Day on Saturday, April 9, from 1 – 5 pm at the North Terrace Church of Christ.
This free family event will feature games and activities for elementary school children grades K – 5. The CYF is hosting this outreach event to demonstrate to younger community members that volunteer service can be rewarding and fun. "As graduating high school seniors, we wanted to have an event that would connect younger kids to our organization and get them thinking about serving the community in their future," explains CYF Vice President Monica Westerheide.
"We really hope this event takes off and is continued by the CYF members in the future," adds CYF President Fletcher Young. "You don't often hear of a bunch of teenagers who want to spend their Saturday afternoon with little kids, but we see this as important opportunity to connect with future members."
Children will have the opportunity to play several games, get their faces painted, participate in pie throwing and tackling a high school football player. Snacks and drinks will be provided.
The Community Youth Foundation is a component fund of the Muskingum County Community Foundation. It exists to empower high school students to make a difference in their community by providing financial and human resources to projects that benefit the youth of Muskingum County. The group engages in a variety of activities including community service projects, leadership development, grant making, fundraising and social activities.
Students of Zanesville and Muskingum County area schools entering ninth grade may apply to members of the Community Youth Foundation by contacting Amy Kettner, Community Youth Foundation Advisor, at (740) 453-5192.