Ohio State Athletic Director Gene Smith to Speak at OSU Alumni Club Auction April 28
Posted on 04/23/2010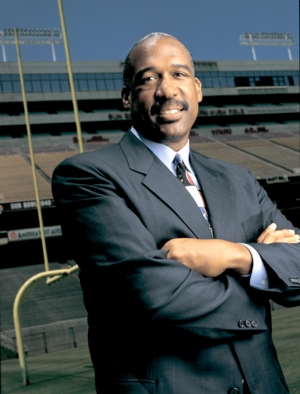 The OSU Alumni Club of Muskingum County will hold its 11th Annual Scholarship Auction on Wednesday, April 28, 2010, at the VFW Hall, 1318 Putnam Avenue in Zanesville. The event will offer both live and silent auctions for a variety of sports memorabilia and other valuable merchandise donated by area businesses, organizations, and individuals, and will also feature the Associate Vice-President and Director of Athletics at The Ohio State University Gene Smith as the guest speaker of the evening.
Now entering his sixth year as the AD at Ohio State, Smith will offer insightful, knowledgeable, and entertaining remarks about his experiences managing the nation's largest college athletics program, and will also be available for autographs and photos. Smith previously served as director of athletics at Arizona State, Iowa State, and Eastern Michigan Universities, and is in his 25th year in the role. He was recently selected as a nominee for Athletic Director of the Year for the 2010 Sports Business Awards presented by Street & Smith's SportsBusiness Journal and SportsBusiness Daily. Smith is a member of the prestigious NCAA Men's Basketball Tournament Selection Committee, and he will serve as the chairman during 2010-2011.
The scholarship auction is open to the public, with all proceeds to benefit the Scholarship Fund of the local OSU Alumni Club, which provides numerous scholarships each year for deserving Muskingum County students enrolled at The Ohio State University. Doors will open at 5:30pm for a reception and placing of silent auction bids. Gene Smith will speak at 7:00pm, followed by the live auction at 8:00pm. Heavy hors d'oeuvres and a variety of snacks will be served throughout the evening and a cash bar will be available. Tickets for the event are $15 person or $150 for a corporate table of 8 seats and may be obtained at Tom's Print Shop (710 Main Street), from OSU Alumni Club board members, or at the door the day of the event.
For more information about the Scholarship Auction or any of the activities of The OSU Alumni Club of Muskingum County, contact club president Terry Kopchak by phone at (740) 454-3344 or by email at tkopchak@hotmail.com
#####