Ryan A. Moyer to Receive Wagner Leadership Award
Becky Hill on 01/18/2018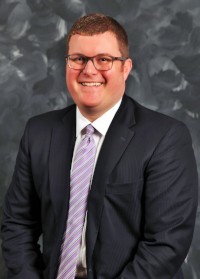 Ryan A. Moyer Received Wagner Leadership Award
Ryan A. Moyer has been named the recipient of the 2018 Brian T. Wagner Community Leadership Award. This award was established by the Muskingum County Community Foundation (MCCF) Council in 2005 to honor volunteer leaders between the ages of 18 and 55 and encourage other young adults to lead efforts to improve Muskingum County.
The award was presented to Moyer on Friday, January 26, 2018, at the Ohio University Zanesville/Zane State College Campus Center during the annual Groundhog Day event celebrating MCCF's 33rd anniversary.
Ryan A. Moyer joined Merrill Lynch in 2008 – after earning a B.S. degree in Finance from St. John's University and an MBA from Franklin University. He is a former board member of the Zanesville Country Club, a founding member of the Legacy Fund to benefit the Catholic Schools of Zanesville as well as a founding member of the Monroe County Community Foundation. He previously served as a member and chair of the Muskingum County Community Foundation Council. Ryan is currently active in the Muskingum Valley Miracle League and the Knights of Columbus Council 505. Ryan and his wife, Tara, reside in Zanesville with their three children, Lucas, Mason & Lila.
For more information about the Groundhog Day Celebration, contact the Muskingum County Community Foundation at giving@mccf.org or by calling (740) 453-5192.
###