Tom Lyall to Receive Dick Johnson Award
Becky Hill on 01/09/2018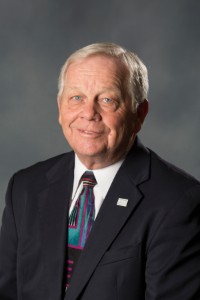 Thomas M. Lyall has been named the recipient of the 2018 Dick Johnson Civic Leadership Award. This award honors Muskingum County residents who combine outstanding achievements in business, community leadership, and philanthropy, a rare combination exemplified by the late Richard O. Johnson.
Mr. Lyall is a Muskingum county native who attended Zanesville High school and Ohio University. He started his banking career in 1971 at Mutual Federal Saving Bank, now Century National Bank. His positions at Century National Bank have included President and Chief Operating Officer, President and Chief Executive Officer, and Chairman of the board. Mr. Lyall has also served the community on numerous boards and committees such as the United Way of Muskingum, Perry and Morgan Counties, The Muskingum County Transportation Improvement District Board, both the Good Samaritan and Bethesda Care system boards, Pro-Muskingum, and was a Founding Board member of the Zanesville-Muskingum Port Authority. He is a past president of the Muskingum County Community Foundation.
Mr. Lyall is a member of the ZHS Hall of Fame and previously received the Chuck Hunter Community Leadership Award, the United Way's Cole and Thomas Lifetime Achievement award and The Muskingum County Community Foundation's Bob Beam Award. Mr. Lyall and his wife Patricia have four adult children, Julie, Jason, Katie and Sara, and twelve grandchildren.
The Dick Johnson Award, established in 2000 through the efforts of Bob Kessler, was presented to Thomas M. Lyall on Friday, January 26th, 2018, at the Ohio University Zanesville/Zane State College Campus Center during the Muskingum County Community Foundation's (MCCF) annual Groundhog Day event. This year MCCF is celebrating its 33rd anniversary.
For additional information about the Groundhog Day celebration, contact MCCF at giving@mccf.org or by calling (740) 453-5192.