Cincinnati Couple Establishes Educational Funds at MCCF
Juliet Lacy on 06/16/2017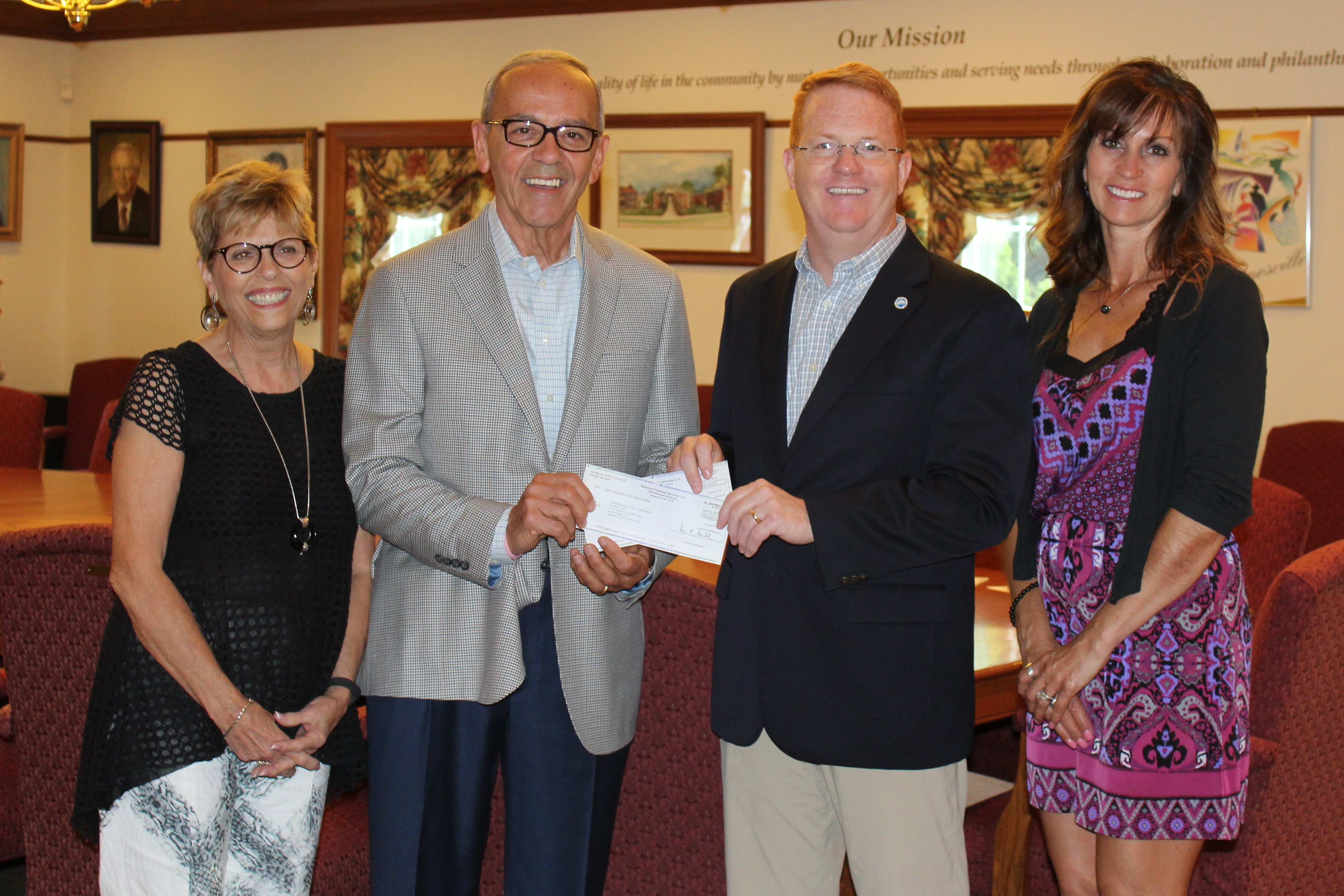 Pictured above (L-R): Susan (Rose) Dorr, John Dorr, MCCF CEO Brian Wagner, and Maureen Riley (the Dorrs' niece)
The Muskingum County Community Foundation (MCCF) is pleased to announce the creation of two new funds established by John and Susan (Rose) Dorr, a Cincinnati couple with ties to Zanesville.
The John and Susan (Rose) Dorr Scholarship Fund and The John and Susan (Rose) Dorr Endowment Fund at MCCF will benefit graduates of Zanesville and Maysville high schools who are pursuing college education and other schooling in skilled trades and nursing. The couple also wants to help Zanesville area school districts and local business communities develop and grow.
"This is the beginning," said John. "We hope to see these funds grow and contribute to the future of Zanesville and Maysville area high school students who desire to pursue college or skilled trade educations while we also contribute to local new entrepreneurial business development."
John and Susan, who both grew up in Zanesville, attribute much of their success to the local people and organizations that helped them early on. They want to give something back to the community and hope their former classmates will do the same.
"We hope to encourage other Zanesville and Maysville alumni to join us in giving back in memory of those who went before us and helped us achieve our dreams," John said. "We are proud of our Dorr and Rose heritages and our Zanesville area roots. Therefore, as part of our legacy, we want to show our appreciation and encourage others to help improve the future foundation of Zanesville."
After graduating from Zanesville High School in 1964, John worked at Western Electric in Columbus and attended Ohio University, receiving a Bachelor's Degree in Business in 1968. Susan, a 1966 graduate of Maysville High School, started her work career with the Pugh Family, owners of Pioneer Electric, while she encouraged John to pursue his educational dreams.
After marrying in 1971, the couple moved to Columbus where John continued his career with Western Electric. He attended Xavier University in Cincinnati on Saturdays and received his Master of Business Degree in 1973. He then spent many years working at Ryder Truck Transportation in Columbus. He became District Manager of Central Ohio, which included Zanesville. He was eventually promoted to President of Ryder Public Transportation, leading the national privatized school bus and public transit businesses throughout the United States. After leaving Ryder in 1999, John joined a dot.com business start-up group in Chicago.
John and Susan retuned to Cincinnati in 2002 and John became CEO of The Habegger Corporation, a family-owned wholesale distributor of heating and cooling products. John guided the company's growth to over 30 locations, including Zanesville, and mentored its third generation family President and young management team.
Since retiring in 2014, John has become a business advisor and board member for several private Ohio companies.
"We have seen people stay in their hometowns and enjoy that lives while others left and moved around the U.S. One thing we realized was no matter where one lives, they shouldn't forget from where they came nor how others helped them along their journey," John said.
For more information, contact the Muskingum County Community Foundation at (740)453-5192 or giving@mccf.org.