Scholarship Central Accepting Applications for AmeriCorps Positions
Posted by Katie McCarty on 06/13/2017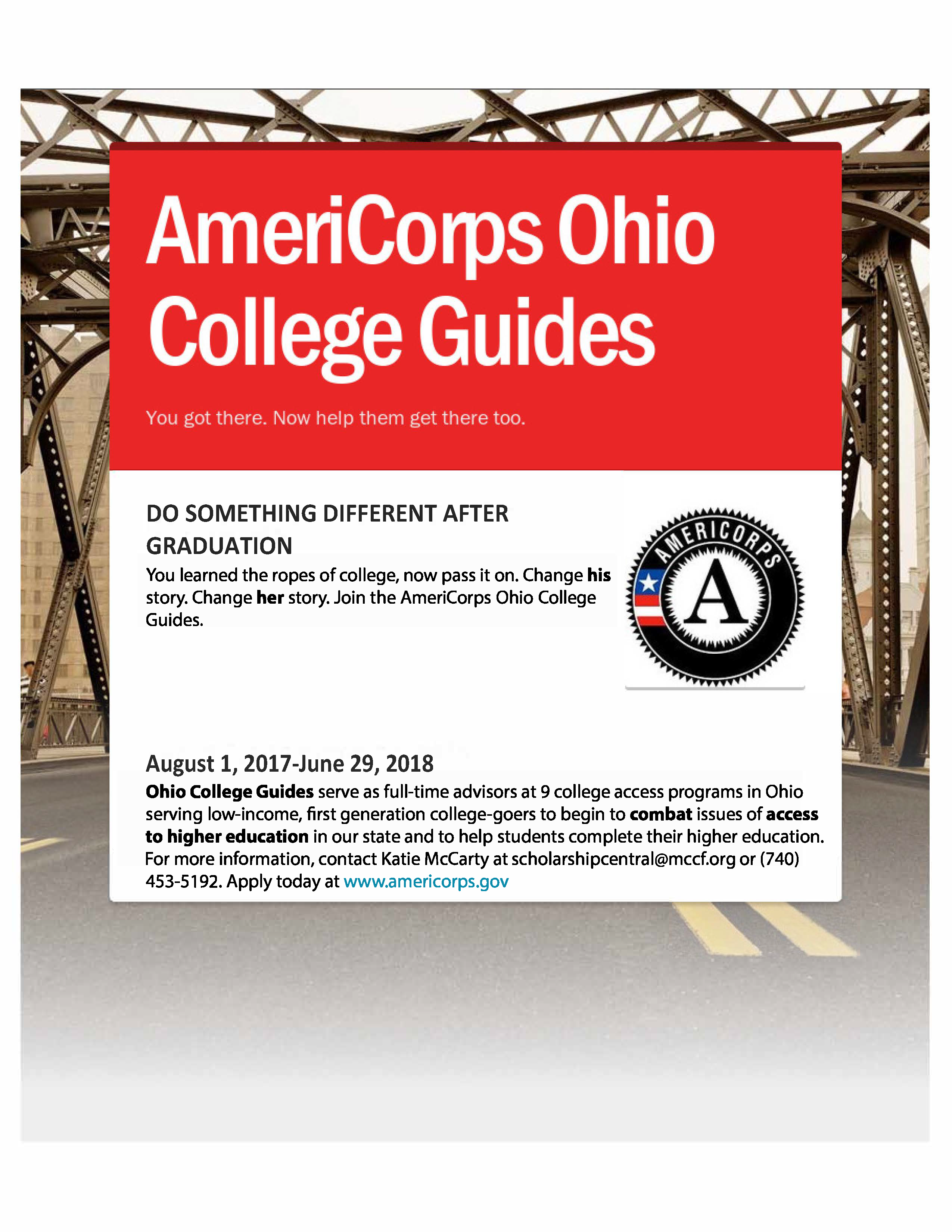 Scholarship Central Access Program at The Muskingum County Community Foundation has been selected to host as many as four AmeriCorps Ohio College Guides through College Now Greater Cleveland. This will be the seventh year we have participated in this program.
AmeriCorps Ohio College Guides will make a real impact on the lives of Ohio students and their surrounding community by promoting college access on a personal level. Members will serve as access advisors, mentoring and guiding typically underserved Ohioans - first generation college-going, low-income, and minority - in getting the information they need to make educated decisions and plans for their future.
The Ohio College Guides program places recent college graduates into schools and community centers to provide a pipeline of current information about the college-going-process to motivate students and families to think seriously about the plans and goals that will lead them into an opportunity-rich future.
To apply for this position, go to:
https://my.americorps.gov/mp/listing/viewListing.do?id=54820&fromSearch=true
Applications must be submitted through the above website due to program specifications and no paper or emailed applications will be accepted.
The Ohio College Guide AmeriCorps member position is an eleven-month, fulltime position from August 1, 2017, through June 29, 2018, with compensation and benefits provided by the College Now Greater Cleveland program.
Interviews will be conducted at Scholarship Central in Zanesville and we will be interviewing until the positions are filled. We are recruiting talented individuals who want to make a difference to join the Ohio College Guides AmeriCorps team and commit eleven months to the position. Each College Guide will advise students on career exploration, academic preparation for postsecondary education, and financial aid; assist students with the college selection process; and plan college tours.
Call Katie McCarty at (740) 453-5192 with questions. Applications will only be accepted through the above link.
This program is made possible, in part, by the United Way of Muskingum, Perry and Morgan Counties
NO PAPER APPLICATIONS AND NO APPLICATIONS THROUGH EMAIL WILL BE ACCEPTED.