Stewart Brothers to Receive Dick Johnson Civic Leadership Award
Juliet Lacy on 01/03/2017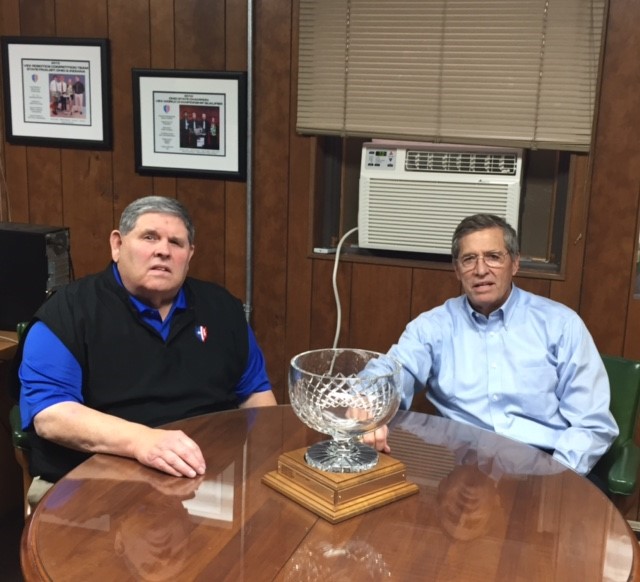 Charlie and Bill Stewart have been named the recipients of the 2017 Dick Johnson Civic Leadership Award.
This award honors Muskingum County residents who combine outstanding achievements in business, community leadership and philanthropy--a rare combination exemplified by the late Richard O. Johnson, who was known for his entrepreneurial spirit, his philanthropic example, and his leadership in civic life. This award is presented each year at the Muskingum County Community Foundation's (MCCF) Groundhog Day Celebration.
The Johnson Award, established in 2000 through the efforts of Bob Kessler, will be presented to the Stewart brothers on Friday, January 27th, 2017, at the Ohio University Zanesville/Zane State College Campus Center during the MCCF's 2017 Groundhog Day event. This year MCCF is celebrating its 32nd anniversary.
Charles T. Stewart Jr. and his brother Dr. William Stewart serve as CEO and President, respectively, of Stewart Glapat, their family-owned business. The Zanesville-based company was founded in 1939 by Charles T. Stewart Sr. with help from his father, C.O. Stewart. The original business focused on designing and manufacturing glass-making machines. The company is now a world leader in extendable conveyor technology. Their "Adjustoveyor" was invented initially for the reliable delivery of glass-making chemicals to the correct part of glass furnaces. The application soon translated to product distribution and the loading and unloading of over-the-road trailers.
Previous Recipients of the Dick Johnson Civic Leadership Award:
2000--Dick Johnson
2001--Jack Downing
2002--Norma "Dorbie" Littick
2003--Carroll Fink
2004--John Matesich
2005--Robert Kessler
2006--William F. Randles
2007--Robert and Leona Fellers
2008--Robert D. Goodrich, II
2009--Dan Hennessey
2010--Richard H. McClelland
2011--Randy Coconis
2012--Bill Straker
2013--Rob Joseph
2014--Clay Graham
2015--Mark Moyer
2016--Larry Triplett
For additional information about the Groundhog Day celebration, contact MCCF at giving@mccf.org or by calling (740) 453-5192.