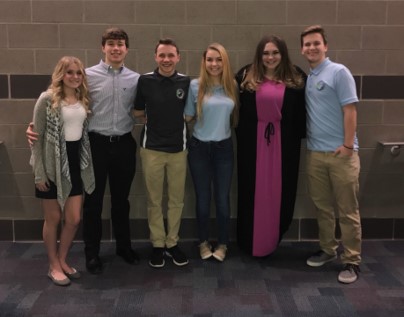 Groundhog Day 2018
The mission of the Muskingum County Community Youth Foundation is to enhance our community's philanthropic spirit through fundraising, grantmaking, awareness, community service, and educational programs in support of the Muskingum County Community Foundation.
The Community Youth Foundation (CYF) is a component fund of the Muskingum County Community Foundation. The Members of the Community Youth Foundation are selected from area high schools. CYF was established with surplus funds from the Foundation's Groundhog Day Celebration in 2000. Members were introduced to the community during the National Philanthropy Day Celebration on November 14, 2000, at the Schultz Mansion in Zanesville. The first meeting of the CYF was held January 20, 2001.

Members meet monthly during the school year. They distribute grants to youth service groups, select local scholarship winners, and work on teambuilding and leadership activities with other members. Members also participate in additional service projects throughout the year, selected by them to improve the quality of life for youth in Muskingum County.


If you have a community service project idea, are interested in assistance from CYF members on a project, or are part of another teen leadership group in the community that may be interested in partnering with CYF on a project, please contact MCCF by calling (740) 453-5192. Projects do not need to serve youth as their primary population, but all projects are considered and approved for member participation by the CYF Advisor.
Community Youth Foundation Officers
2018 - 2019
President: Clarice Hague, Maysville
Vice President: Cory Burkhart, West Muskingum
Secretary: Rachel Taylor, Bishop Rosecrans
Treasurer: Sam Slaboden, Tri-Valley
Fundraising Chair: Grace Johnson, Tri-Valley
Communications Chair: Hannah Hartman, Philo

The Community Youth Foundation currently has 68 members from local high schools.