For Grantseekers
Foundation Center Cooperating Collection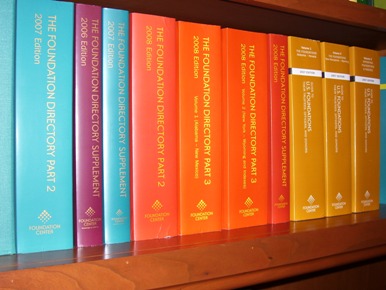 Grantseekers Central
Grantseekers Central is an initiative of the Muskingum County Community Foundation (MCCF) that has been in existence since the summer of 2007, when MCCF was approved as a site for a Cooperating Collection, which offers public access to the print and electronic resources of the Foundation Center.
Established in 1956, the Foundation Center is the nation's leading authority on philanthropy, connecting nonprofits and the grantmakers supporting them to tools and up-to-date information they can effectively utilize. The Center maintains the most comprehensive database on U.S. grantmakers and their grants, and operates research, education, and training programs designed to advance philanthropy at every level.
The Zanesville Grantseekers Central is a member of the network of over 360 Cooperating Collections located in all 50 states, Puerto Rico, and Mexico, and includes five Foundation Center Regional Centers located in New York City, Washington, D.C., Atlanta, Cleveland, and San Francisco.
Nonprofit organizations and individuals in the Muskingum County area may access the resources of the Foundation Center and receive assistance with their grant seeking efforts by contacting the staff at MCCF. In addition, Grantseekers Central will periodically conduct community seminars and workshops pertaining to the various aspects of the grant seeking process.
For more information contact Terry Kopchak at (740) 453-5192 or tkopchak@mccf.org.
---
Masthead Photo: Twenty vases from the Weller Vase in Place Project sit on property west of the Y-Bridge - Photo by Jamie Hoover