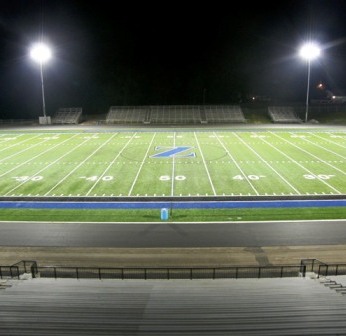 Significant improvements have been made to Zanesville High School's Sulsberger Stadium through a campaign for donations to a fund at the Community Foundation.
(Photo courtesy of the Friends of Sulsberger)

Anyone can give. We invite you to make a lasting investment in our community.
DONATE NOW
Community foundations attract charitable gifts from many individuals, families, organizations, and businesses. They invest these funds and use the proceeds to make charitable grants. Even the smallest gifts are combined for professional management at minimal cost. You may
donate now
or by mailing your contribution to MCCF using our
donation card
.
A larger gift can be held as a separate fund in your name or the name of someone you love. You may create a fund in the Foundation during your lifetime or in your estate. You may suggest the use of this fund or leave the choice of the charitable recipient to the Trustees of the Foundation. Grants from this fund will always be made in your name.
More information on establishing a fund
.
You can support MCCF by sponsoring special events or pubications.
Visit the
What to Give
page to learn more about the variety of charitable gifts accepted by MCCF.
Why give through the Community Foundation?
The reason community foundations exist is to respond to changing conditions in their communities. As our community's needs change, the Foundation's giving program can change quickly enough to be effective, yet always reflect the wishes and intent of donors.
We know our community and care about the future
When you choose to invest in the future of our community, you want to work with someone who knows the issues, concerns, and needs of our area. The Foundation is managed by professionals who know the community well and will help your charitable giving achieve maximum results.
Your Interests are our Interests
Your gift will reflect your charitable interests and priorities. We are here to help you become connected to the issues you care about the most. Your charitable interests and priorities are important to us because committed, caring citizens are important to our community's well-being. By setting up a fund, you have the ideal opportunity to create a legacy for you, your family, and for our area. Your gift will keep on giving and will meet the changing needs of the community today and in the future.
Superior Tax Advantages
Because the IRS has designated us a public charity, contributions are eligible for the highest available tax deductions.
Ease of Administration
Establishing a fund can be done in less time than it takes to open a bank account. We take care of all the administrative and grantmaking activities, eliminating the need for you to set up a separate institution, formulate policies, file innumerable forms and monitor the status of grant recipients. All gifts are prudently and professionally managed. We save you time and money.
Public Accountability
The Foundation is accountable to the public and publishes an annual report, files annual tax returns and obtains an annual independent audit.
---
Masthead Photo: Fountain at Restoration Park located in the Putnam Historic District of Zanesville - Photo by Joe Clark